Weight:

65 - 72

g

Capacity:

2.0 - 4.0

L
$89.00
Cafe Bag UL
Handy, detachable accessories bag for storing your valuables. Even if you're not willing to admit it, half the enjoyment of bike packing is the time when you aren't riding – the stops! Whether it is for the fantastic view, the well earned rest or the vast quantities of food. If you are trying to keep weight off your back (if you're reading about bikepacking bags, then you probably are), there are usually a few things you'll want with you during your stops, so a bag you can quickly remove from your bike and sling over your shoulder is very handy indeed!
Integrated attachment system
The Cafe Bag UL is designed to work together with the Handlebar Front Harness + Dry Bag UL, Handlebar Front Combo Bag UL or on its own. It comes with straps to be able to attach directly to the handle bars by itself and includes integrated jacket carry loops. 
An optional detachable shoulder strap is available separately.
Hybrid Dyneema® Composite Fabric
Hybrid Dyneema® Composite Fabric (formerly Cuben Fiber) is a patented, ultra-lightweight fabric made of flexible non-woven composite laminates which are reinforced with Dyneema® fibres.

DCF is costly and for good reason. It's 15x stronger than steel and provides the highest tear and tensile strength of any competing fabric on a weight-by-weight and thickness basis.

The hybrid variant of DCF is a 2-layer laminate material combining a thin DCF layer with a polyester plain-weave face fabric, which adds strength and makes the material look more like a traditional woven fabric.

It is our fabric of choice for products that demand high performance durability and the absolute best in ultra-lightweight, waterproof fabric.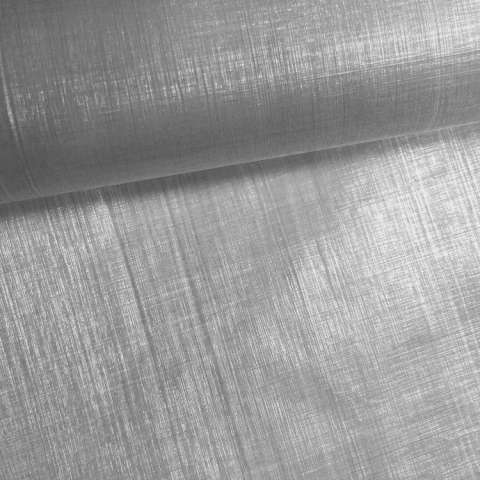 Ultra Light Dry Bags
Roll-top end closures ensure a secure and tight load. While the bags are seam-sealed and waterproof for the purpose of bike packing (brief submersion, eg. river crossings, deep puddles, torrential rain, etc.), prolonged submersion could result in water wicking through the velcro closures. The dry bag is not recommended for kayaking, rafting or water-based sports.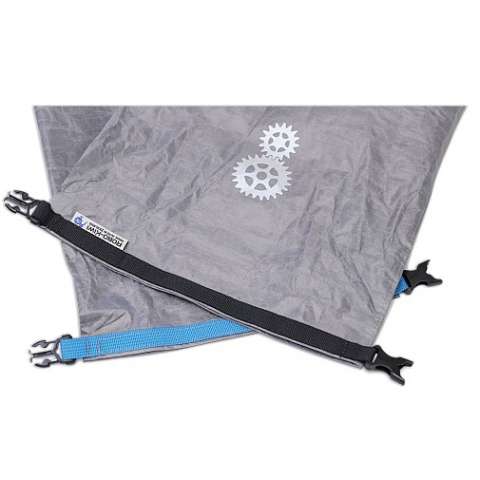 Visibility
Highly reflective logos keep you visible from all directions at night.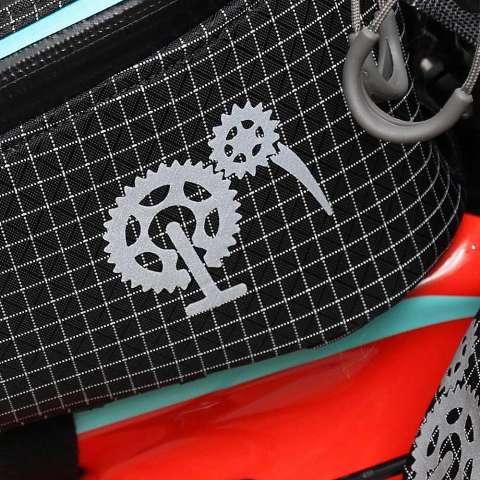 Made in New Zealand
All ROBO-KIWI bikepacking bags are proudly designed and made in New Zealand from a range of quality technical fabrics.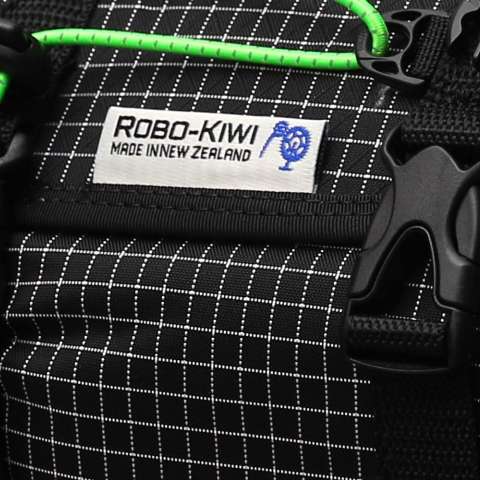 Water resistant zippers
YKK Uretek water resistant zippers are used throughout all ROBO-KIWI bikepacking bags.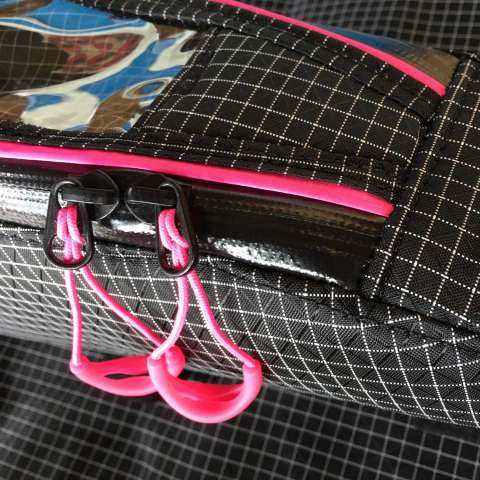 Fabrics & Colours (UL)
Choose from 3 external fabric colours for a unique setup that matches your bike or contact us for a completely custom look.
Mesh Side Pockets
Elasticated side pockets with a stretch mesh - these are great for stashing bits and pieces while riding, particularly useful for snack wrappers!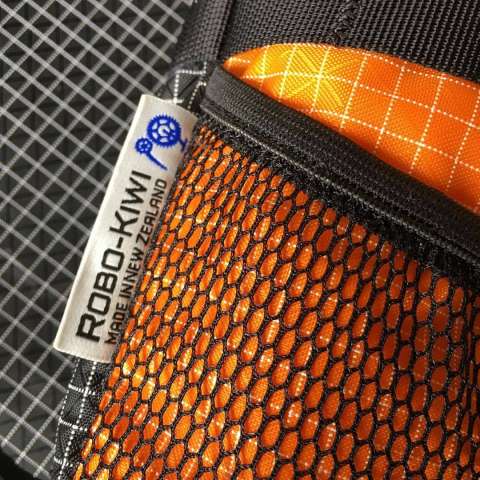 Detachable Shoulder Strap
Allows the Cafe Bag to double as a shoulder bag (sold as a separate accessory).
What to put in it
Great for those valuables and items you want to keep close at all times (and not leave with your bike!) or information you want quick access to during your stop (eg. wallet, passport, phone, keys, maps, route description, camera, etc.). Side mesh pockets are great for stashing snack wrappers (or your toothbrush!) while riding.
How to pack it
The Cafe Bag UL can be packed on or off the bike. It detaches quickly and easily for refuelling stops at cafes and supermarkets or when you need to make a quick stop and leave your bike. Packing options are made easy with three pockets: a main pocket with double ended zip extending around the top side for easy access, a second external pocket on the front and one internal pocket for valuables (complete with key hook).
| | |
| --- | --- |
| Model: | ultralight |
| Product Code: | RK29UL |
| Weight: | 65 - 72 g |
| Capacity: | 2.0 - 4.0 L |
| Height: | 19 - 23 cm |
| Width: | 24 - 27 cm |
| Depth: | 7 - 9 cm |
Robo-Kiwi Ultra Light is our bag solution that goes all-out to create the lightest possible version of our products, while still maintaining functionality and durability. Excess weight is cut wherever possible. We use a hybrid Dyneema composite outer fabric, smaller buckles, narrower straps and velcro, lower density foam inserts, etc, etc.
The ultra light solution isn't right for everyone. If you want bike bags so durable that you'll be able to pass them down to your grandchildren, there are plenty of bag manufactures to choose from. If you want bags that have been shown to go the distance while saving significant weight over a standard bike packing setup, Robo-Kiwi Ultra Light is for you!
For the standard model, check out the Cafe Bag.
If you'd like to go even lighter than our Ultra Light Model, please contact us to discuss your requirements. There are a few extra tricks we can employ on custom setups to save a few grams here and there and if you are willing to make a few key trade-offs we can make significant extra weight savings.